Fly To New Heights With Our Luxury Picnics Partnership
Plan an adventure that will take you above and beyond anything you've experienced before! We're proud to be a part of a truly immersive Okanagan experience and are excited to offer our customers access to the creative and edible wonders dreamed up by local planners of luxury picnics, Gypsy Chix Picnics.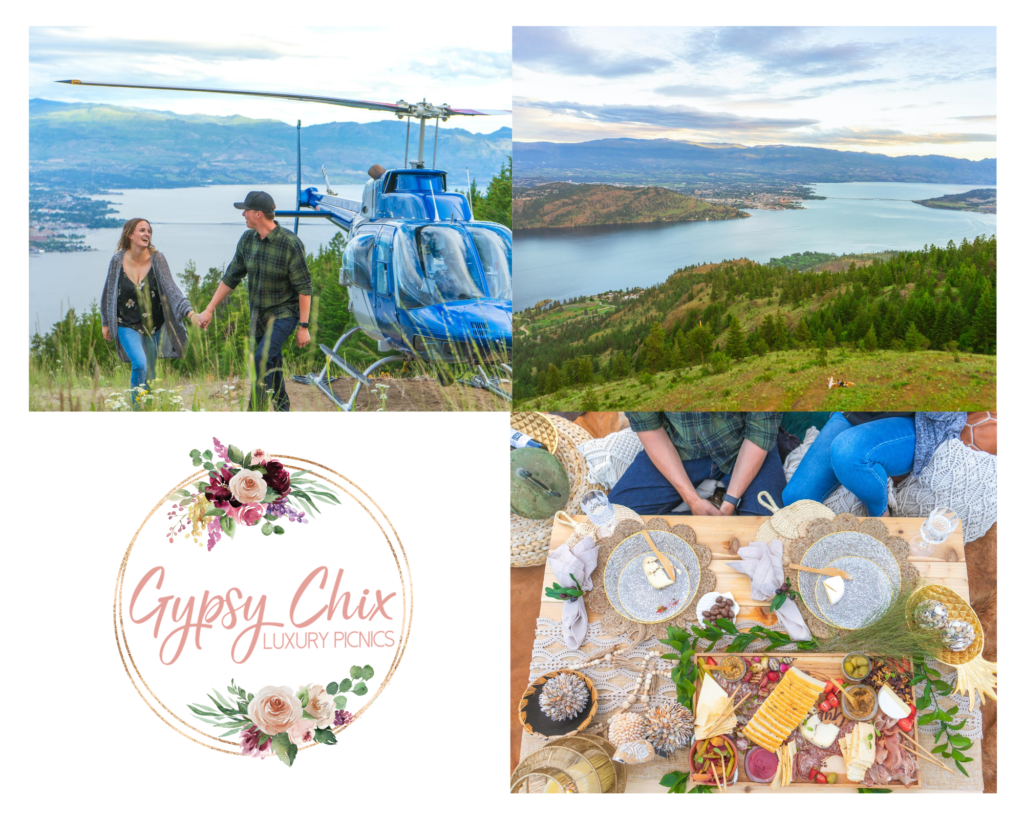 Luxury Picnic Packages
Whether you're looking for an unforgettable proposal, bridal shower, elopement, or a unique experience to share with your loved ones, Gypsy Chix Picnics can put together a memorable package. Choose from four different available stylings, ranging from boho-chic to vintage antique, and customize your event's aesthetic further with extras and add-ons. With different heli-picnic packages and catering available for small groups, this exclusive experience will be a hit with all your guests. Build a day of memories that will last a lifetime.
Local Gourmet Graze

Indulge in decadence with the hand selected local delicacies that are carefully and thoughtfully curated for luxury picnics. Offering an abundant assortment of BC's best cheeses, artisan cured meats and numerous delicious dips and spreads, this feast is sure to please every palate.
Build your picnic from a beautiful assortment of house made pickles, mixed olives, and candied nuts, as well as fresh roasted local veggies and vine ripened seasonal fruit and berries. Fresh baked bread and artisan crackers are included along with fresh local honeycomb when in season. Gluten Free and Vegan options are available on request.
Arriving in Style
Make an entrance, and arrive at your curated luxury picnic in a helicopter from Valhalla's fleet. For an additional $600, we can take you on a journey high over the stunning Okanagan scenery to the luxury picnic of your dreams!
We can't wait to help you plan this once in a lifetime experience. Contact Valhalla Helicopters or call us at 250-769-1486 to book today!
---