Valhalla Helicopters offer a wide variety of scenic Okanagan helicopter tours, custom charters and commercial helicopter services. Although most of our flights are in the Okanagan Valley we do hold the required licences to offer our services world-wide.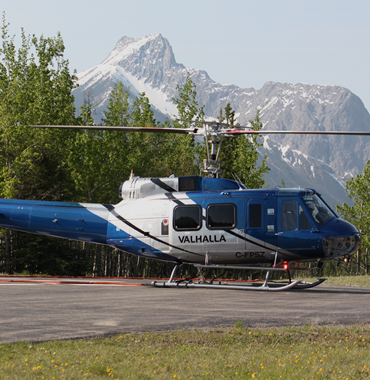 Valhalla Helicopters is a private company, owned and operated by Blair Savege.
Valhalla Helicopters commenced operations in the spring of 2003 with a single Bell 212BLR: C-GLFT. Fleet growth has been carefully planned and managed since then, with Valhalla Helicopters now operating a fleet consisting of:
Three Bell 212HP/BLR machines
Two Bell 205++/BLR machines
Five Bell 206B machines
Valhalla Helicopters has established itself as a reliable, competent and accomplished presence in the Canadian helicopter market. In 2010, Valhalla Helicopters' Blair Savege developed an international presence by creating a sister company, Valhalla Helicopters Pty Ltd, with a base of operations in Illawara Airport, New South Wales, Australia.
Safety and Professionalism
Valhalla Helicopters strives to maintain the highest level of safety and professionalism. Blair Savege's commitment to provide exceptional service at all times is consummately upheld by all members of the Valhalla Helicopters' team.
Our pilots and engineers are among the finest and most experienced in the industry, our management is skilled and knowledgeable, and our highly specialised seasonal crews have proven to be swift and efficient time and time again.
As an owner/operator, Blair Savege is insistent on quality equipment and takes great pride in his operation. All aircraft are initially sourced and purchased in excellent condition; nevertheless, Valhalla Helicopters likes to make them all our own, completing full unscheduled overhauls on each within the first year of acquisition. Our collective team effort coupled with top calibre machinery provides our customers with a quality of service that will transform the seemingly impossible into reality.
Where We Fly
Valhalla Helicopters currently maintains a head office in West Kelowna, British Columbia with landing and hangar facilities onsite. We also hold Domestic and International Non Scheduled Transportation licenses and are able to offer our services world-wide.
Hangar Facilities
Our custom-designed hangar and office is located in beautiful West Kelowna, BC.
Charter Tariff
Provisions for aircraft with uo to 29 passenger seats.