Helicopter Tours & Charters
Whether you are a hovering rookie looking to tick off that helicopter flight box on your bucket list or a seasoned flyer who can spot the difference between a Huey and a Jetranger, Valhalla Helicopters can fly you on the experience of a lifetime.
HELI-TOURS
Year Round
West Kelowna $399/ Helicopter
Simply Kelowna $499 / Helicopter
Savour the Valley $669/ Helicopter
Jewels of the Okanagan $1149 / Helicopter
All listed prices exclude GST & Gratuity
Heli-Wine Tours
Year Round
Half Day – 3 Hour Experience $1545 / Helicopter
Full Day – 6 Hour Experience $2800 / Helicopter
Additional Wait Time: $100 / Hour – Pending Availability
Additional Flight Time: Charter Rate – Pending Availability
All listed prices exclude GST & Gratuity
Helicopter Charters
Year Round
Contact us for charter rates for the Bell 206B, Bell 205++ and Bell 212BLR Helicopters
Alpine Lake Heli-Escape Tour
June 15 – September 15
1.5 Hour – 2 Hour Experience $969 / Helicopter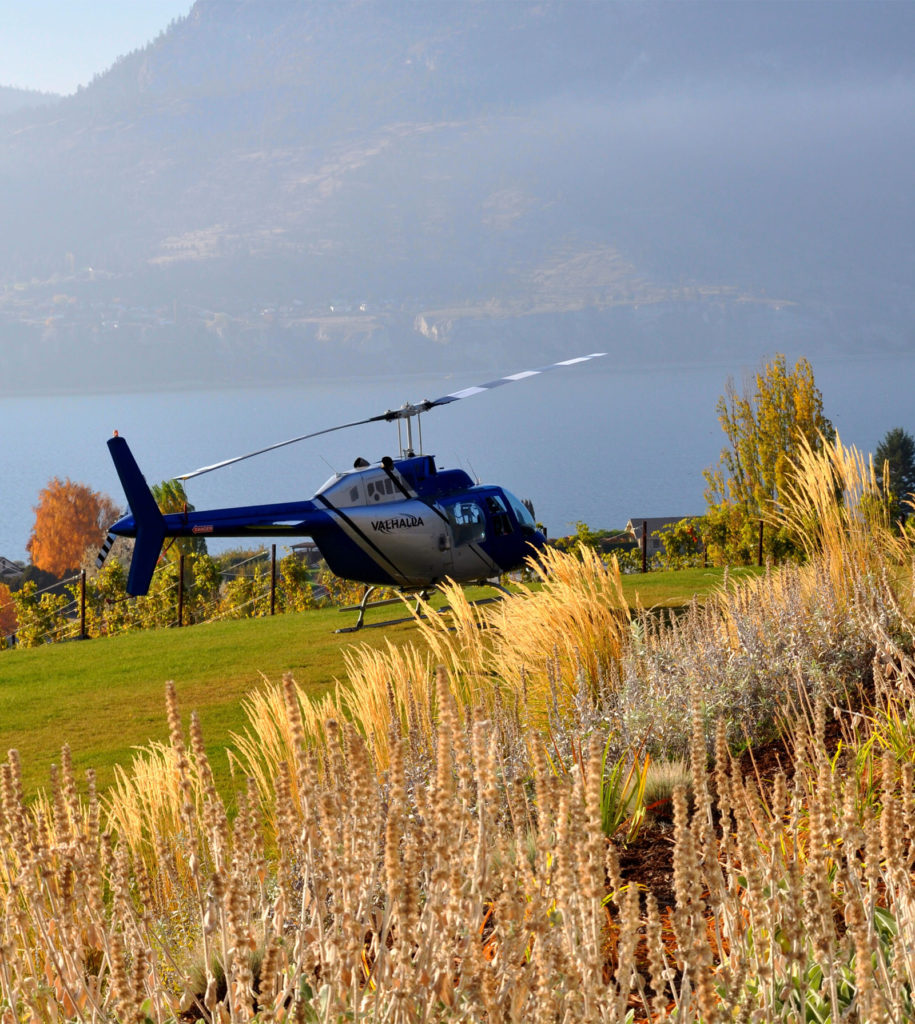 If you are interested in seeing the exquisite Okanagan valley from a higher perspective, choose from our selection of wine or sightseeing helicopter tours or create your own unique helicopter charter flight.
Our tours and flights depart from our hanger located at 1100 Stevens Road, West Kelowna, British Columbia, V1Z 1G1. Get directions here.
From our fleet to our staff, Valhalla Helicopters considers our operation to be first class. Our priority is to ensure that every one of our clients is treated professionally and most importantly, safely. We encourage feedback from our customers so please contact us or post a comment or a photo on our TripAdvisor, Twitter or Facebook page.
A Heli-Tour is a marvellous gift idea for birthdays, anniversaries, weddings or any special occasion, and Valhalla Helicopters can create a personalized gift certificate to present at the special occasion.
Whatever flight you choose, ensure you have a camera and spare batteries so you can share this unforgettable experience with your family and friends.
Booking
To inquire or to make your booking today email us at tours@valhallahelicopters.com or call us at 1-866-769-1486.
Advance booking is required as flights are subject to aircraft availability and weather conditions.
Tour rates are based on 4 person Bell 206B helicopter occupancy; weight restrictions apply. Prices are not inclusive of tax or gratuity, and are subject to change. All flights commence and end at the Valhalla Helicopters' Hanger in West Kelowna. Remote pick-ups, drop-offs, and additional flight & wait time may be subject to an additional charter cost. All flights subject to aircraft availability and weather conditions.