Give Dad the most moving Father's Day, yet.
What does your dad crave this June? A little bit of adventure, naturally! The beautiful Okanagan weather beckons him (and, subsequently, you) outside to play! Indulge his restless spirit with an exhilarating trip around town. Whether you're celebrating your dad, step-dad, father-in-law, grandfather, or father-figure, you're sure to find an enjoyable way to make a mobile and memorable Father's Day weekend.
Here are some unique ways to get Dad on the move around Kelowna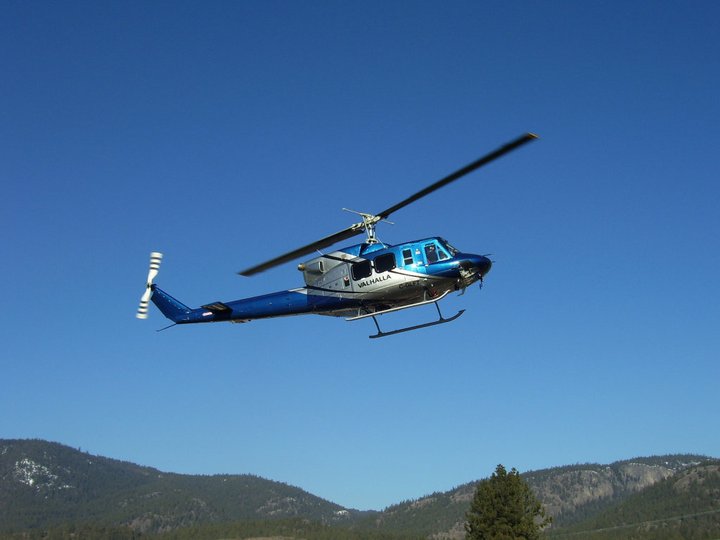 FLY
Obviously, we're a little biased, here, but at Valhalla, we think taking to the skies is the best way to get Dad's spirit soaring! Head to our hangars on June 15th or 16th (pre-booking required!), and get dad up in one of our helis for a stunning
Scenic Tour
over the city, valley, and surrounding hillsides. Seeing our beautiful region from this vantage point is always amazing (even for our pilots, and they do it a lot!).
It's a gift for you, too –enjoy 20% off our regular Scenic Tour* rates for Father's Day weekend, and be entered into a draw to win a 30 minute tour!
Because flying in a heli is like eating potato chips. Once you've had a taste, you'll just want to do it again and again. And again.
Once Dad has had a chance to fly above Kelowna, let him explore it with a more tethered activity:
SPLASH
We live on a gorgeous lake. Get Dad out on it! There are numerous and diverse watercraft rental companies in town. Sailing, rowing, jetskiing, speedboating –all of them offer watery fun.
Rent
a kayak or a stand up paddle board right on the beach, and take dad for a relaxing paddle along the shore (bonus: arm workout!). It's a really peaceful way to enjoy the welcoming, relaxed Okanagan lifestyle. Send dad on a splashy, speedy
parasailing
trip! Exhilarating and wet, and a great way to try to spot Ogopogo's watery hiding place. We love the unusual and super-relaxed
Maeg's BBQ Boats
. These 10-person rafts are an instant floating party! With a grill in the middle, a shady umbrella, and a perfect "jumping off" point to take a quick dip in the lake, these boats are a total upgrade on the traditional family picnic.
RIDE
Take a spin on tradition. Kids of all ages (even "dad" ages) love trains! Summerland's
Kettle Valley Steam Railway
is an enchanting throwback to a time when travel was rare and exhilarating. Invite your father's secret inner child to ride the rails with you, and to get an insider's view over the lush Summerland vineyards and orchards.
ROLL
Get out and explore the amazing bike trails around town! For the leisurely papas, take a gentle ride along the flat lakeshore bike path, the Myra Canyon trestles, or the leafy, well-maintained Mission Creek Greenway trails. Is your dad more daring? The mountain biking paths that wind through Myra-Bellvue Provincial Park or the challenging bike park at Big White are excellent spots to get his heart racing. Just hope you can keep up with dear old dad!
HIKE
Still ready for a little exercise, but prefer to have both feet on the ground? There are so many places to walk, climb, and explore around here! For a little fun twist, try to plot out your next trail adventure from the sky when you're on your scenic heli tour: seeing the wilderness from all angles adds an intriguing aspect to your hikes. Kelowna Mountain, Black Mountain, Scenic Canyon, Fintry, Bear Creek, Boucherie. You can spot them all (and more!) from the sky, and then wander through them from down below. Enjoy some self-propelled Father's Day footwork this year.
RACE
None of these activities fast enough for your dad? There is a place in the Okanagan that's custom-made for those who really crave speed. Down in Oliver, you'll find Area 27, a private luxury motorsports club. The great news? The expertly-designed track is open to public racing aficionados who attend
Academy 27
racing lessons. Raise the whole experience a luxurious height by flying down to Oliver in style. Valhalla's heli pilots are happy to help you make a grand entrance at the track!
---
No matter how your dad prefers to celebrate his big day, there's a way to make sure his father's day is a soaring success!
The Okanagan is an awesome playground. Let Valhalla Helicopters help you make the most of it. Contact our hangar to book your dad's Father's Day Scenic Tour, and get ready for his amazing weekend take off! Best. Gift. Ever.